Messages

26
Likes

1
City

Grand Rapids
State

MI
Country

United States
What I Drive

2019 Ford Fiesta SE HB
Well, for two cents if still on topic...
I myself installed a hitch for making my 2018 Fiesta SE more of a workhorse. But when it comes to suspension- I actually went UP in height for the needs of the roads here in Southern Michigan and Northern Il tend to be more along the lines of a mountain trail excursion hike than a simple trip to grandmas house.
So I even used different springs and rear shock height spacers to raise the rear by couple of inches to help with ride and trailer hauling for around the town use.
Plus the addition of a rear trailer hitch tends to keep more of the tailgaters at bay - so you can at least have a little room to breathe.
I won't go into a lot of details, but I do recommend that you measure out for yourself what your needs are before you just jump on what everyone seems to want you to buy, for that may be a bigger mistake than just leaving the car as OEM as possible.
My concenrs - as said before, were from road conditions and for utiliy I will need the car for. So I took apart the rear suspension by unbolting the rear shock botls and simply jacking the car up so I caould locate the "tags" for the springs and even let them drop out so I could measure them for what my new height requirements as well as spring "style" was.
So when you mentioned ST versus OEM on the Fiesta, ths is why I stopped to post this. To warn you - I saw many different options and had to sort out and pare down to what I simply needed. A set of springs to raise the rear by at least 2" (7-CM) or thereabouts to offset the "tongue weight" the trailer may have on the vehicle.
You will need to extend the Shock Absorbers too, for they will "bottom out" if you're on rough roads...So you'll need a spacer - found this on Amazon...
ST Brakes are VASTLY different than the OEM Front Disc and Rear Drum you'd find on an SE model - so do you want that effort or just keep drums - I kept drums and yes, I do use the E-Brake - for I own the 5 speed in this.
There is the problem of economics, there is only so much you can put into your investment to make it work and provide some satisfaction as well as service life. To swap out the OEM suspension of a typical SE - Hatch or Sedan or any non-ST line - is your business. But remember too, with the upgrade comes the headaches of required maintenance and the differences of handling, parts and customs' in what you installed on the vehicle now become more of your responsibility and not the repair shop.
- so if you're willing to take such a risk, do the upgrades as you see fit. Just don't expect a lot of support from repair shops that have to follow any warranty or other work based upon your intitial VIN part assignments. Yes VIN - so if you do these upgrades - the parts required for the repair - do you revert to OEM stock or maintain the custom? You decide.
Liability too, so does the insurance risks increase as well as repair costs for the upgrade.
Ok, enough preaching...
Clutch versus Auto - considering the first test drive was with an Auto - it's why I went and found a stick - the M/T gives me the control and ability to "feather" and drive as I need versus the nearly "complete control" the Automatics tend to take on in ordinary driving that those whom use a car based on older years, may not like. To me to drive these newer Automatics is to feel we're driving a giant marshmallow that tends to want to coast and drive itself for longer periods of time than the usual engine brake effects, vehicles of just a decade ago, used to have for slowing - driver control and speed braking
Sigh oh well - I wish you good luck on you endeavor. Hope these hints helped you.
As far as the Springs go, the OEM ones are quite short and as you lift the rear up - you'll see how they are placed and seat. They are considerably shorter than what I was surprised to see and did not need to use any type of coil spring compressor to remove them. It (steps to do this) was to loosen wheel nuts,
Remove Rear Shock Absorber bolt from the Crossmember -
Wheel chock the front tires - lift rear cross member - remove wheels - take a SECOND jack and lift entire rear to allow cross member jack down - springs fall out - that simple - didn't have to be concerned with the brake lines - they will still be curved enough with hose line length to allow the hubs to rest smack on the pavement. The spring base in the crossmember pretty much handed the spring right to you.
New springs were stiffer as well as longer so the ride height is better for rougher terrain and roads that would have taken an ST for a wet piece of paper and pretty much shredded the undercarriage.
I used per website above - Monroe 81055 - below is what you have in the OEM Ford you have now...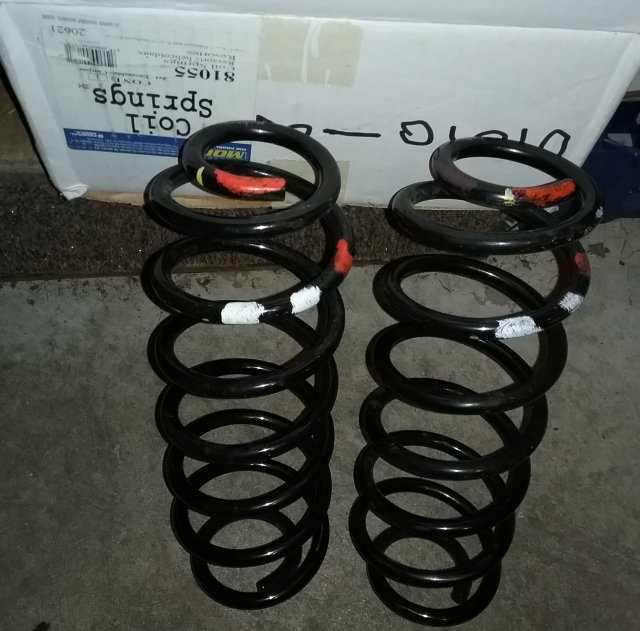 They've been replaced by the 81055's - note the taper winds and the "banding" - it identifies that is their top - the bottom side that seats in the crossmember housing is on the bottom - the box the 81055's came in is what Iv'e stored these in case I need to revert back - if ever - not likely but - then you never know...
These photos are not done to insult anyone or provide shock value - AHEMN
SIC
- but to help the user decide for themselves...
Now as far as "stiffeners" for anti-sway goes, there are at least two I've seen and I've settled on the ones that "bolt" to the shock spring/Absorber base and stiffen that rear crossmember. This is a Hatchback, not a Sedan. So in one way, you gain trunk space and a 5-th door with a hatch, but the Sedan offers a little better sway and twist integrity unto itself by design for hauling but is not as "sporty" if you needed to make this work yet have something fun to drive. The sways' were added after the initial hauling effort, and I didn't really feel the need for them except for the ability to handle rougher roads having the sway bars. A punishing ride either way, but I feel there's more to keeping the car aligned for a longer period of time in between it's service-life intervals.
So they've been removed for now, for they are not needed except for heavy-heavy hauling which I don't think this car will ever do - but I'm keeping the swaybar just in case...
This is how I did it for my car, your mileage and option trim kits will vary - but most of all, do it for fun - this isn't an exercise in futility - even though it's for utility.
Last edited: