Mountune which will soon be
coming stateside
plans to offer a large assortment of upgrades for the Ford Fiesta ST.
The recent Mountune upgrade consists of an ECU upgrade for ?599($795) which bumps the power to 212bhp and 236lbft shaves a cool three-tenths of a second off it's 0-62mph run. This will give it a 0-60mph time in under 6.5 seconds.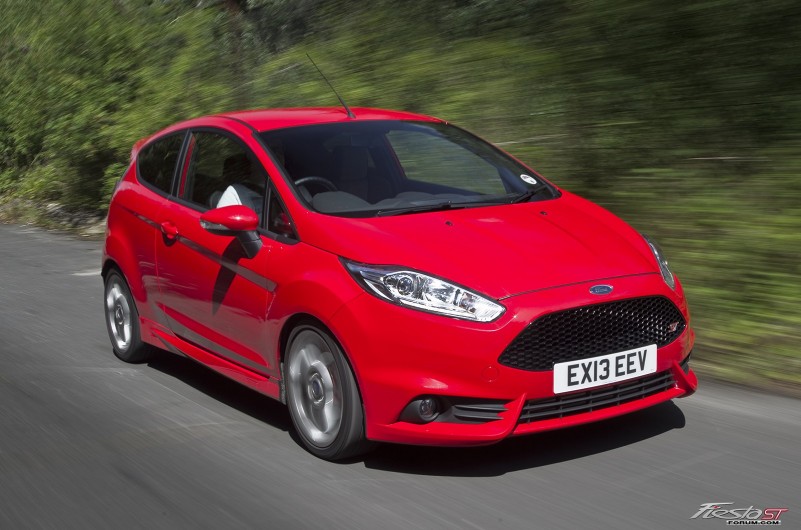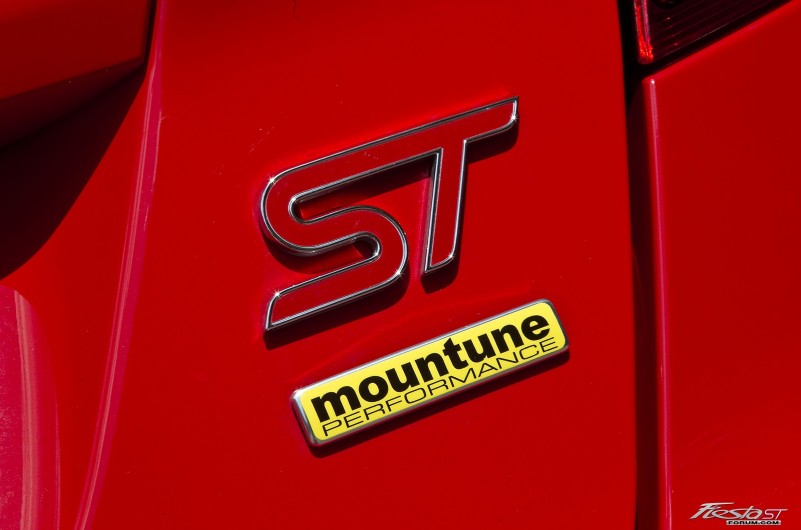 What is it?
The Ford Fiesta ST: one of the best new hot hatchbacks we've tested lately and – manna from heaven for a road tester – a car whose greatness depends not a jot on optional equipment.
There is one alloy wheel and tyre combination (you can have the former painted if you like), one body style, one suspension set-up and one transmission. It's just impossible to buy a badly specced car.
The options list is beautifully brief, too, the most expensive item on it being Molten Orange paint at ?725. There is, however, one new option for the Fiesta ST, which threatens to add a hint of complication to a blissfully simple buying process: an engine upgrade offered by Essex tuner Mountune Performance.
What is it like?
The waters haven't been muddied too much, because you should just have it. 'It' will cost you ?599 at any Mountune-accredited Ford dealer. 'It' doesn't affect your Ford warranty. 'It' consists of a new airbox, filter, hose and an ECU remap.
And 'it' takes the Fiesta's 1.6-litre engine to 212bhp and 236lb ft and shaves three-tenths of a second off its 0-62mph sprint. To 60mph, the difference is big enough to make a Mountune Ford Fiesta ST a sub-6.5sec car.
In everyday driving, you notice several improvements. The extra torque means you can often sweep into motorway gaps without changing down. The extra power, meanwhile, chimes in with a hard-edged flare of combustion noise at 4500rpm, and allows you to get much closer to the red line before the engine runs short of breath in classic turbo fashion. That in itself makes flat-chat acceleration more exciting.
The rest of the ST experience is unaltered, and brilliant. You'll love the way the car grips at the front wheels and pivots under your backside. You'll love how directly it steers and refuses to roll.
Fast Ford devotees will probably even love the slightly yobby, track-car-hard ride. Passengers may not agree, of course. But you'll be having so much fun that you honestly won't care.
Should I buy one?
Absolutely. In a hot supermini class filling up with monotone and mediocrity, this engine kit makes one more distinguishing feature on a quite outstanding driver's car. One that effortlessly transcends its nearest rivals, like the Peugeot 208 GTI, and demands consideration in an altogether broader sense.
Truth is, you could spend ?30k on a hot hatchback this year and end up not having as much fun as you would in an ?18k Ford Fiesta ST. This is something of a masterstroke.
Ford Fiesta ST Mountune
Price ?17,594; 0-60mph 6.4sec; Top speed TBC; Economy TBC; CO2 TBC; Kerbweight 1163kg; Engine 4cyls, 1596cc, turbocharged, petrol; Power 212bhp at 6000rpm; Torque 236lb ft at 2750-3500rpm; Gearbox 6-spd manual