Messages

393
Likes

2
City

Houston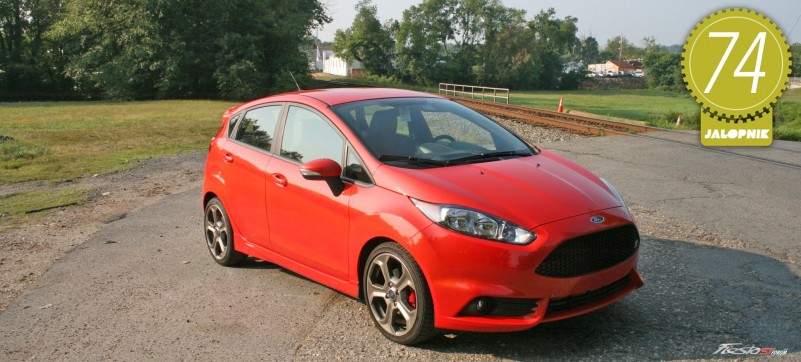 "Remember that car? That sure was a great car. I really wish they still made that car today, because I'd totally buy one." That's a conversation that happens multiple times a day in the Jalopnik comments. Let me tell you this: years from now, the Ford Fiesta ST will be the subject of that conversation too.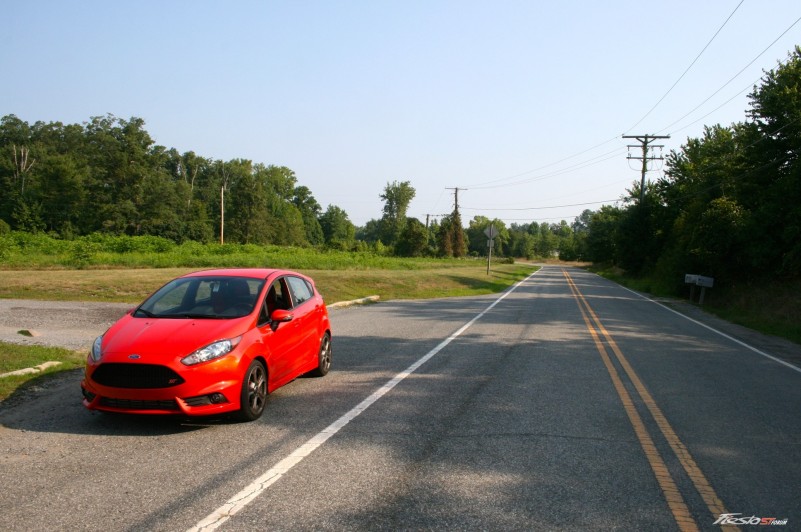 It's hard to find one big, overreaching reason why the Fiesta ST has become such a critical success. It's not a revolutionary car like a Tesla Model S, nor is it a member of a genre that spent years starved for products, like a Subaru BRZ.
The Fiesta ST is a hot hatchback. The world's been getting those for more than 30 years now. It's the same classic hot hatchback recipe as always: take a humble economy car, add more power, mix in an improved suspension, and keep the price reasonable. (Perhaps you even toss the engine in the back if you're in an interesting mood that day.) You get cheap performance with everyday practicality.
No, what makes the Fiesta ST great is that it does everything so well. It's very quick. It has an excellent gearbox. The handling is sublime. It looks cool. You can fit lots of stuff in it and park it just about anywhere. It even returns really good fuel economy ? I averaged about 30 MPG in my time with it, and I certainly didn't go easy on the throttle.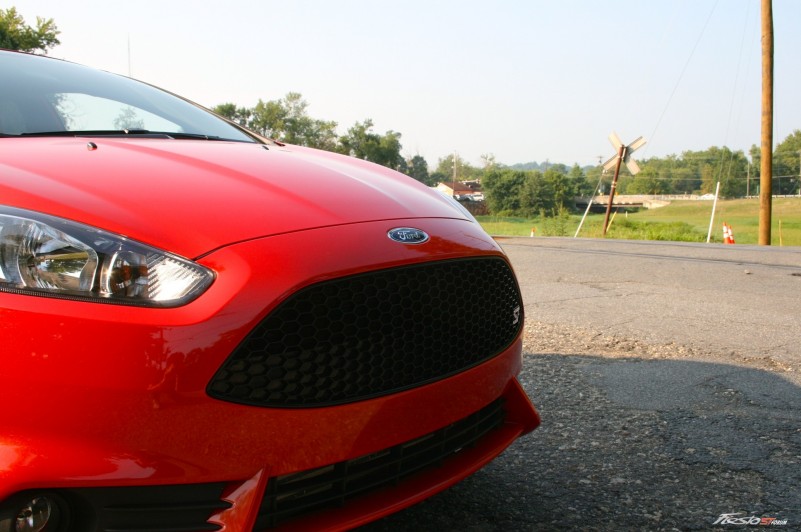 And most of all, the damn thing is just a ton of fun to drive. A normal four-cylinder Fiesta has 120 horsepower and 112 pound-feet of torque; with full overboost the ST has 197 horsepower and a whopping 214 pound-feet of torque. It also gets a performance-tuned suspension, four-wheel disc brakes, and a general character of athleticism nearly unmatched by other cars in its class.
It's fun to hoon on back roads. It's fun on the track. It's even fun in everyday traffic. And it's one of the best "low-speed" cars to come around in a long time.
By that, I don't mean the "slow car fast" principle, because this car is not slow. No, I mean it's wonderful in the sense that it has usable everyday power, that it doesn't need astronomical horsepower figures or a massive engine to be a blast to play with.
Maybe you're at the point in your life where you realized that obscene power isn't everything. Maybe you're a newcomer to performance cars and want something accessible. Maybe you just had some unfortunate speed-related run-ins with the law and you're trying really, really hard to behave yourself on public roads. (Hypothetically speaking, of course.) The Fiesta ST is the car for you!
In fact, it's the car for all of us. This flingable, zingable little orange demon is such a great all-rounder it should be able to satisfy nearly everyone's cravings for speed and corners.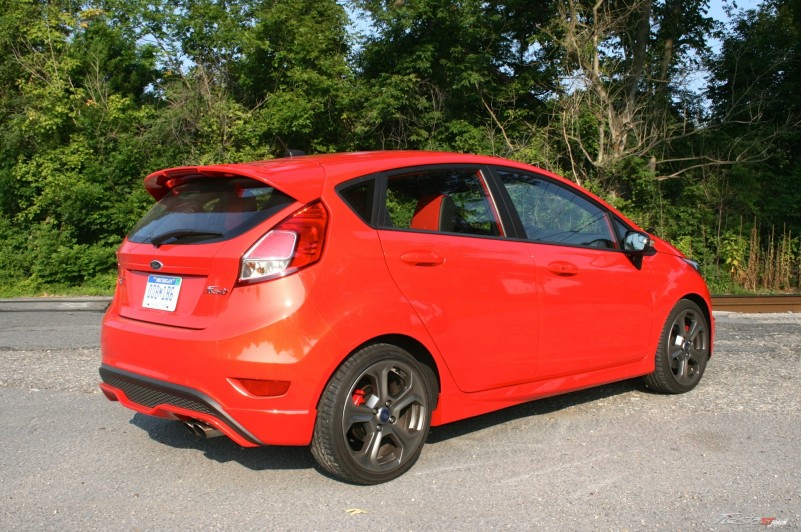 Remember the days when most cheap economy cars were miserable, nasty-looking little penalty boxes, seemingly designed to scream "Look how broke I am, everybody!" The Ford Fiesta isn't like that at all. In sedan or hatchback form, it'a a pretty good-looking little car. It may not be a style icon, but it's attractive. A new Ford Fiesta is a perfectly respectable ride.
The Fiesta ST comes only in hatchback form. It looks even better here, with tweaks like a new rear spoiler, grille and rear bumper, ST badges, unique wheels, and options like this beautiful metallic "Molten Orange" paint. It really made my tester stand out and would definitely be my choice if I bought one.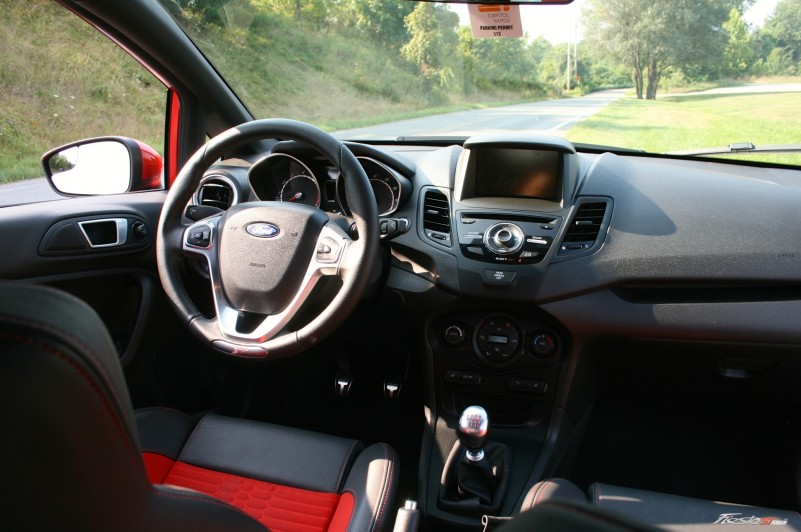 Okay, here's the thing. The Fiesta is a $14,000 economy car. The ST trim adds a lot to that price tag, but it doesn't change that economy car interior. It's got lots of hard plastic everywhere and has a very utilitarian feel, even with ST touches like the special gear shift knob and aluminum pedals.
But you know what? It gets the job done. Everything is simple, easy to figure out. It keeps the emphasis on driving. It was fine in terms of headroom too, for me and a 6'2" friend. The back seat is a bit tight in terms of legroom, though.
I never really made up my mind on the $1,995 Recaro seats. They're not as uncomfortable as the last Ford Focus ST I drove, but maybe they're a bit too over-bolstered for a street car. Don't get me wrong ? I love me some bolstering! But I think these may cross into the territory of "too much."
I was consistently amazed the Fiesta ST's engine only displaces a mere 1.6 liters. It feels so much more powerful than that. Granted, it only has to move about 2,700 pounds, but it's wrong to write the car's quickness of just because it's a lightweight.
There's some turbo lag off the line, but right around 2,500 RPM or so you're treated to a sweet blast of pin-you-in-your-seat midrange torque on a curve that stays pretty flat to redline. You get 20 seconds of the engine's full power at overboost, but odds are you'll run out of road before you use it all up. And while there's some torque steer it just helps to keep things lively.
Because the Fiesta ST is so tiny and loud, it always manages to feel like it's going faster than it is. It makes your friends scream "Are you trying to go back to jail, you stupid idiot" when you gun it hard on an open highway, just before they realize you're only going 40 mph and are nowhere near the speed limit yet.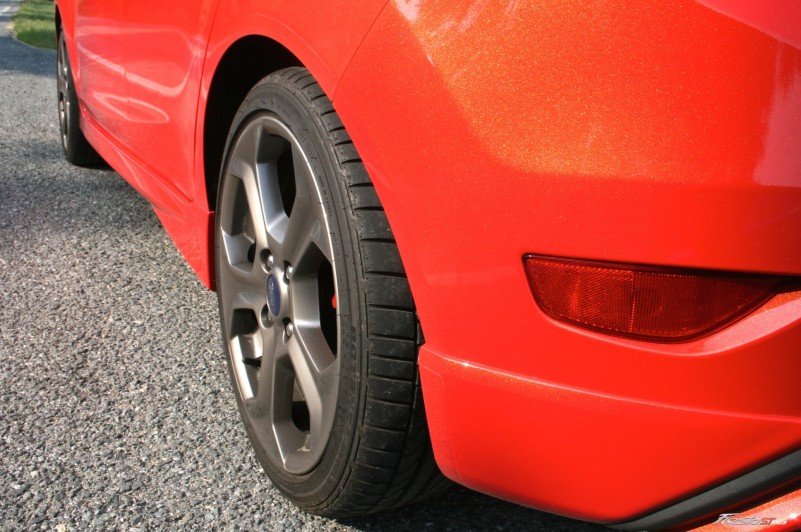 No drum brakes for this bad boy! The Fiesta ST gets discs all around and they are quite good. Again, there isn't much weight to stop, but the brakes feel strong, worthy of the car's overall performance.
Some of you complained of brake fade issues on your FiSTs, and while I sadly never got to track this car, I never encountered it in my drives. Your mileage may vary.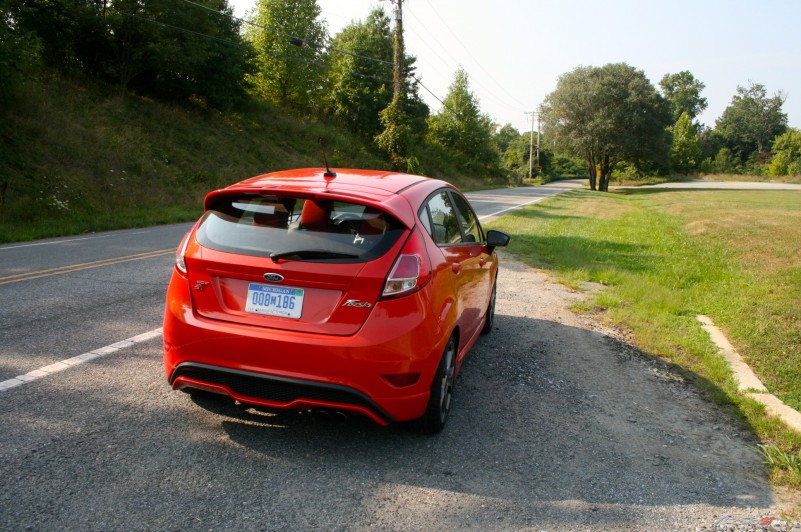 Given that the Fiesta ST competes with cars like the Fiat 500 Abarth and Mini Cooper, I expected the ride quality to be terrible. It actually wasn't. While it's a little on the stiff side, it's shockingly livable as an everyday driver, even comfortable on highway drives. It's certainly no worse than your average economy car.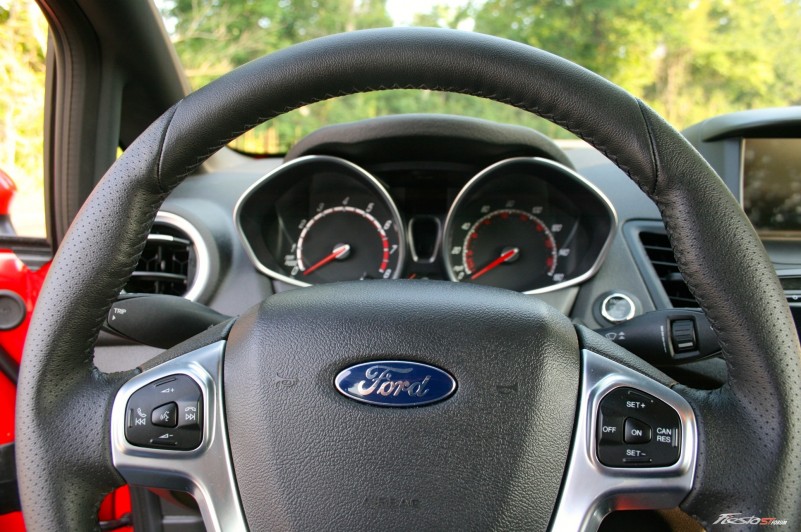 Much of the Fiesta ST's hype revolves around its handling abilities, and it largely lives up to it. I think it raises the bar for front-wheel drive performance cars on the market right now.
Turn-in is very quick and the car feels very light and chuckable overall. There is little to no body roll. It doesn't quite rotate its rear end like the Focus ST can, but it's much more direct, more point-and-shoot overall. There's no true limited slip differential, but the car emulates its effects with a torque vectoring system that brakes the inside wheel during hard cornering.
The electric rack is pretty solid too, but it could stand to be a bit more communicative. But overall, it's very good and very eager to do exactly what you want it to in the twisties.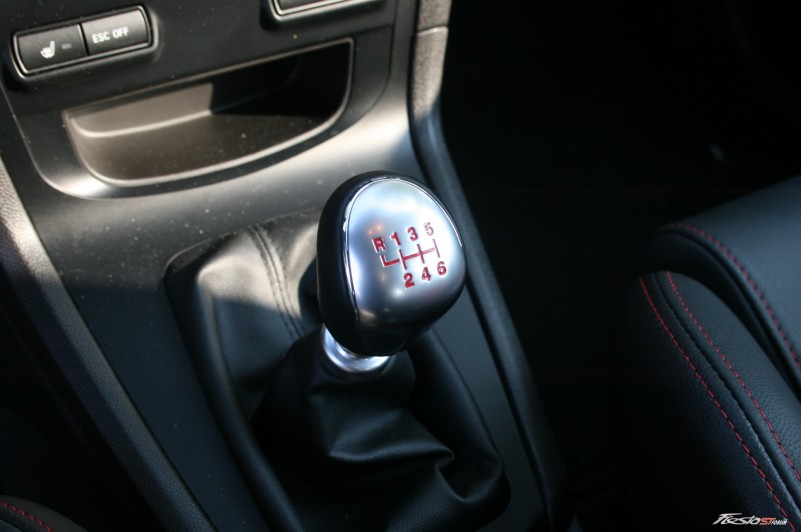 The only transmission you can get with a Fiesta ST is a six-speed manual, and it's superb. The clutch is perfectly weighted with a nice, well-defined catch point. Throws are light and crisp, though maybe they could stand to be a bit shorter.
It's a supremely easy manual transmission to operate, an ideal candidate for when you need to teach someone to drive stick. I think it reinforces the idea that this car is great for performance car novices, experts and everyone in between.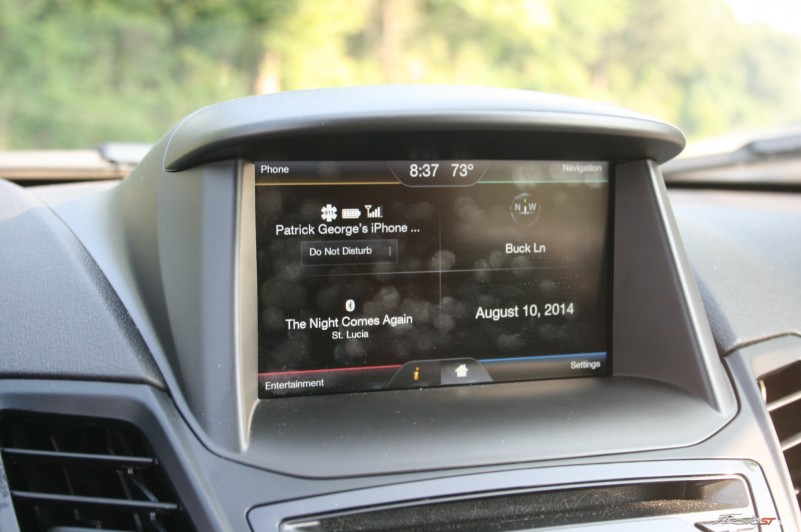 Here's the insane thing about MyFord Touch ? it actually didn't suck on this car. (I told you it was insane!) They've made updates to the system since the last time I spent a long time in a Ford, and they showed here.
It synched my phone right away without drama and played Spotify over Bluetooth, and not all infotainment systems do that. Voice commands worked fine too. Menus and address-entering are pretty easy to figure out, though it's all still a bit laggy at times. Also, that 6.5-inch screen is on the small side.
My Fiesta ST was fairly sparse as far as other toys went. But I count quality over quantity, and the car itself is fun like a toy. That's better than any gadget.
No, it can't match the manic baby-exotic howl of the 500 Abarth. But nothing in this price range can, really. Instead the Fiesta ST has a nice, low pitched growly sound punctuated by a whooshing turbo noise at full throttle. Small, turbo four-cylinder engines don't always have a ton of aural character, but this one is quite addicting.
The Sony audio system wasn't bad. It wasn't great either, but it offered a nice, crisp sound with acceptable bass. It's probably not going to blow away any hardcore audiophiles.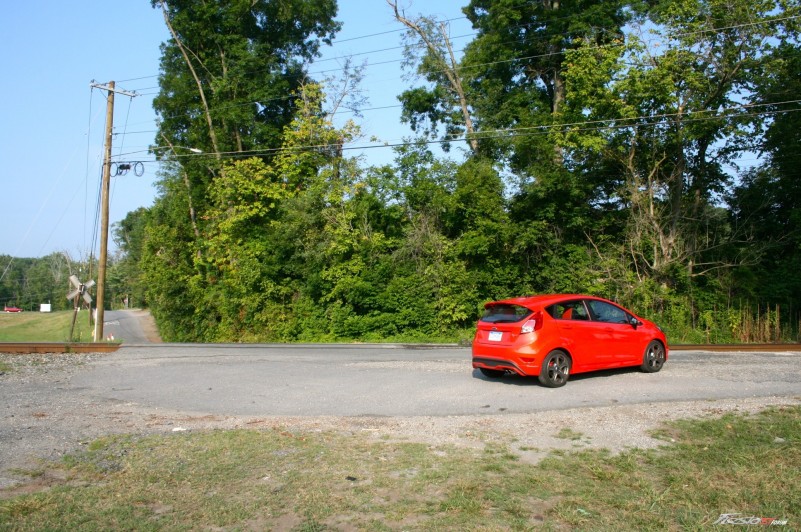 So my Fiesta ST tester came in at just under $26,000 with the fancy orange paint, the fancy gray wheels, SYNC with navigation, and the heated Recaro seats. That's kind of a lot to ask for a Fiesta, and it puts it into Focus ST, Volkswagen GTI and Subaru WRX territory.
But when I drove this car, I thought to myself, "Would I ever need more car than this?" And the answer was no, not really. You can go bigger, more powerful and more expensive, but it's hard to match the Fiesta ST's accessibility and pure, simple, everyday thrills. Plus, other, less well-equipped STs can be had for much closer to $21,000.
Pick one up while you can, before it gets fat and watered down and loses the plot with subsequent generations. And then one day, when we're talking about how much we miss this car, you can say "I had one of those and it was the best."
Engine: 1.6-liter turbocharged inline four
Power: 197 HP at 6,000 RPM/ 214 LB-FT at 3,500 RPM
Transmission: Six-speed manual
0-60 Time: 6.9 seconds
Top Speed: 137 MPH
Drivetrain: Front-Wheel Drive
Curb Weight: 2,720 LBS
Seating: Two up front, three in back
MPG: 26 city/35 highway/29 combined
MSRP: $21,400 base, $25,985 as tested